Le Soleil de la Méditerranée
UNMISSABLE VILLAGES
Home to almost 40 beautiful villages included in the "Les Plus Beaux Villages de France" list, Occitanie is a wonderful place for culture vultures. The rich and varied architecture takes you on a journey back in time. During excursions, you will learn more about the civilisations, artists and artisans who have made one of France's most beautiful regions what it is today. Located in Saint-Cyprien on the Mediterranean coast, Le Soleil de la Méditerranée Campsite is the perfect base for exploring Occitanie's towns and villages.
CANET-EN-ROUSSILLON
With over five miles of sandy beaches, Canet-en-Roussillon is a place for relaxation and watersports. Explore the picturesque village on foot and take in its castle and incredible history. On market days, the fresh local produce will please any foodies. This village has a very Catalan feel. It puts on a variety of cultural events like human towers, sardana dancing, correfoc fire runs and trolling fishing.
Canet-en-Roussillon is also a natural paradise. Its protected Natura 2000 lake is home to an abundance of birds and its 27-acre arboretum boasts over 500 plant species. With everything from vineyards to the sea, this area is rich and varied.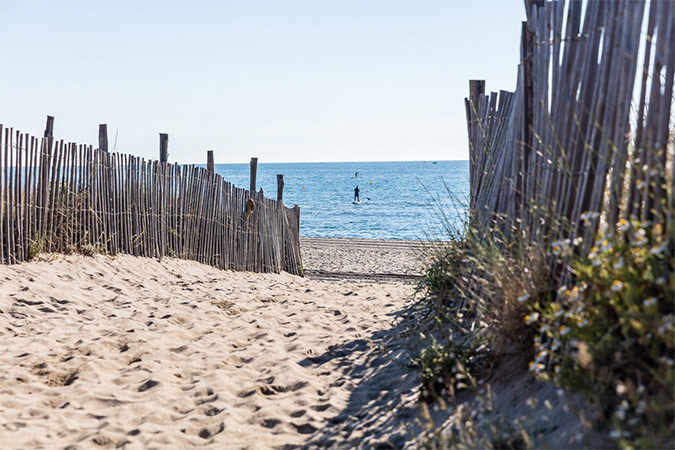 COLLIOURE
Collioure is a lovely Mediterranean village 25 minutes from Le Soleil de la Méditerranée Campsite. It has an unspoilt feel and is a protected environment. If you're in Occitanie, you must visit this little Catalan port tucked away in an idyllic cove.
Rocked by the Mediterranean, at the foot of the Pyrenees, Collioure invites you to appreciate the qualities of its climate. The winters are so mild and the summers so long, that the holidays are pleasant all year round. During your walks around Collioure, succumb to the temptation and treat yourself to a swim in the clear waters of the Mediterranean. On the way to customs, after a visit to Fort Miradou or Saint-Elme, settle down on one of the many beaches and coves along the coast.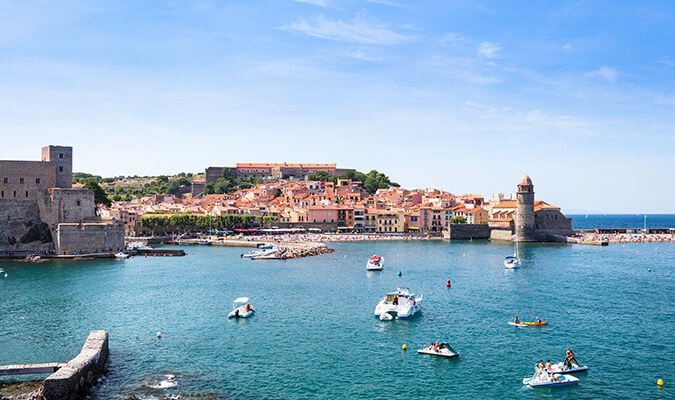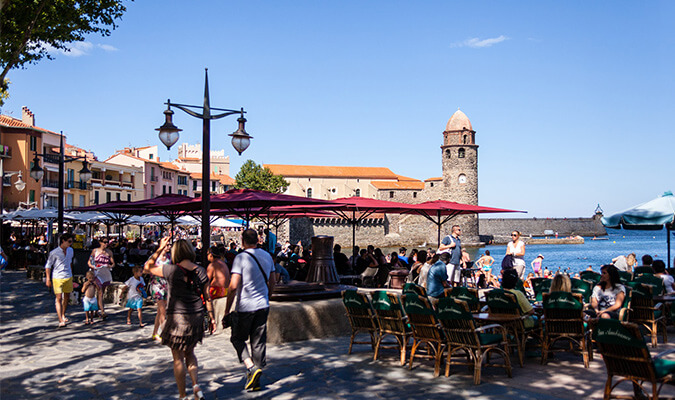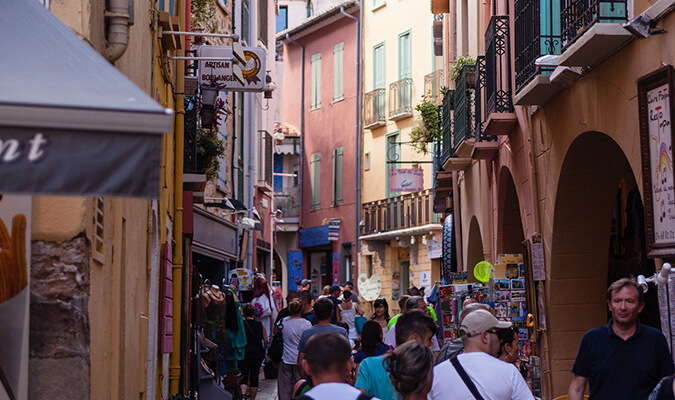 L'ANSE DE PAULILLES
L'Anse de Paulilles bay sits between the Pyrenees and the Mediterranean and is a jewel on the Côte Vermeille. Just 30 minutes from Le Soleil de la Méditerranée Campsite, this little corner of paradise will delight the whole family.
Tucked away in Port Vendres between Cap Béar and Cap de l'Abeille, L'Anse is home to little beaches and rocky promontories. There is also a wall built by the Germans in 1943 behind Bernardi, L'Usine and Fourrat beaches.
As for the local land, the rocky red and ochre landscape is dominated by terraced vineyards. Domaine de Paulilles stands in the middle of this spectacular landscape, providing a stunning contrast. The towering 35-metre brick chimney surrounded by lush vegetation is a reminder of the heritage site's labour and social history.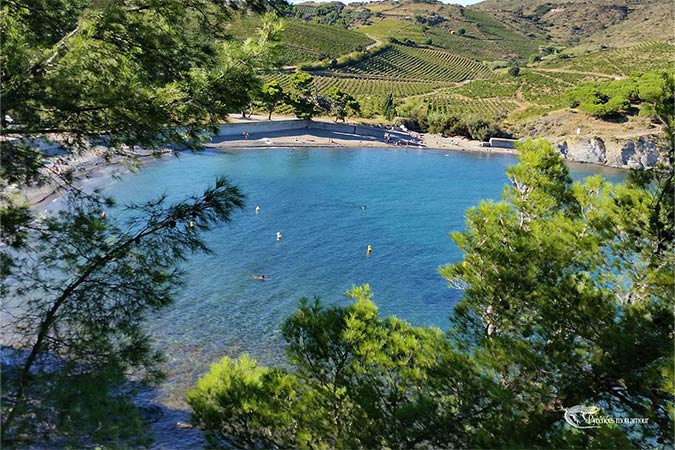 ARGELES SUR MER
The foot of the Albera Massif is where the Pyrenees meet the sea. And it's also where the village of Argelès-sur-Mer provides the perfect combination of the art of living, tourism and seaside delights.
Start your visit by going up in the world: Parc de Valmy park has the best views of Argelès and the local area. If you want to go even higher, head for Tour de Massane tower. This medieval structure is almost 800 metres tall and has unique views of the whole Mediterranean coast and the Roussillon plain. The sunsets here are incredible.
Anyone who likes relaxing, swimming and watersports will enjoy the four miles of beach in Argelès-sur-Mer. Shelter in a cove or soak up the sun on the sand: you decide how best to enjoy yourself by the sea!
Argelès also has two amazing nature reserves: Forêt de Massane forest, home to over 3300 species of insects, bats and many birds, and Réserve naturelle nationale du Mas Larrieu reserve where hundreds of animal and plant species live in the freshwater and saltwater.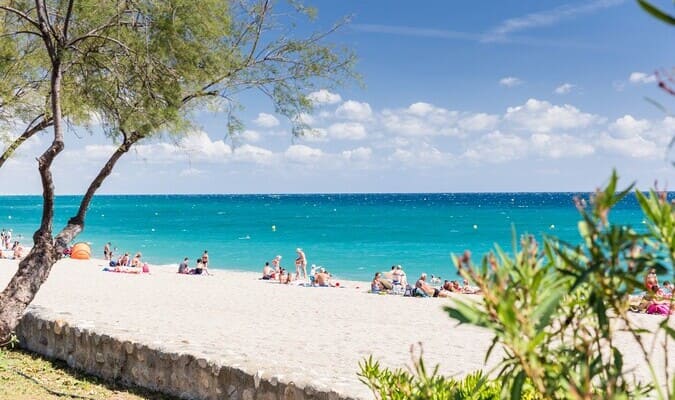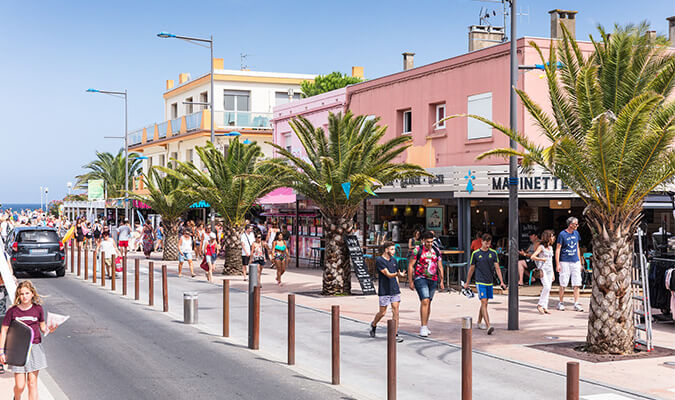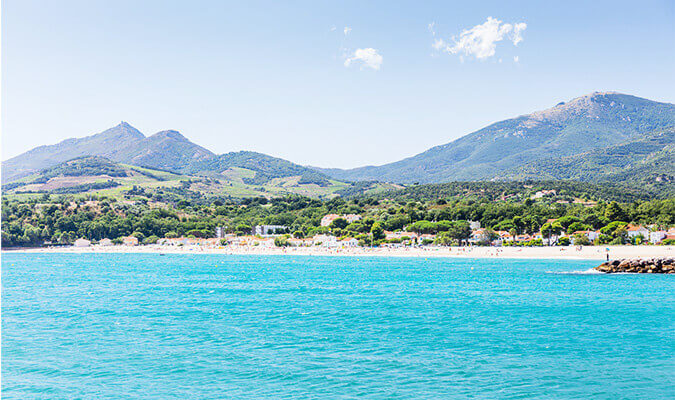 LEUCATE
Just 30 minutes from the campsite, you'll find the gorgeous beaches of Leucate. These are unmissable for anyone staying at Le Soleil de la Méditerranée Campsite. Leucate is truly striking from the sea and on land!
The 11 miles of golden sandy beaches are perfect for an afternoon relaxing, snorkelling or doing watersports. If you go snorkelling, you'll see an incredible wealth of underwater biodiversity as you come face to face with Leucate's many colourful fish.
Thrillseekers will enjoy the wind on the water. Leucate is a paradise for wingfoilers, kitesurfers, windsurfers, kitefoilers and paddleboarders, and hosts the Mondial du Vent event each year.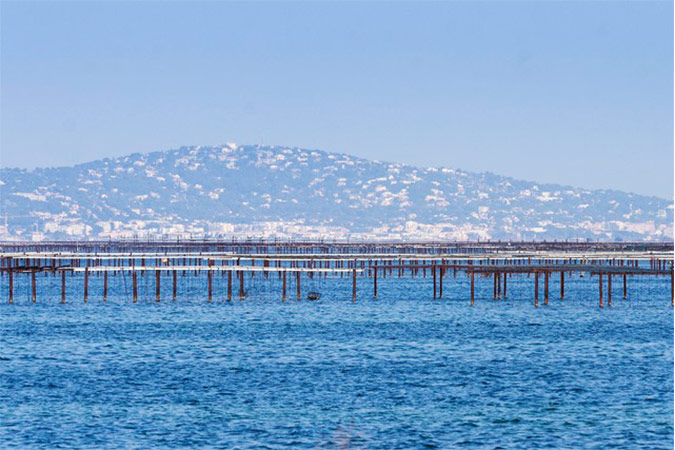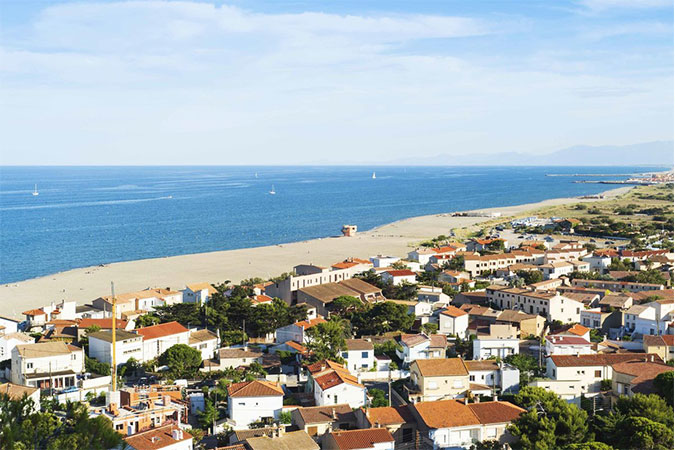 CASTELNOU
40 minutes from Le Soleil de la Méditerranée Campsite, you'll find Château de Castelnou castle, an unmissable symbol of medieval times in Roussillon. During your visit, relive key moments from the Early Middle Ages and the lives of the Viscounts of Vallespir. This magical castle at the top of the village not only provides a journey back in time, but also has amazing views of inland Occitanie.
It's open all year for visits with family or friends. After your visit, take some time to stroll around the village. Castelnou is a tourist hotspot with lots to explore. Located at the foot of Les Aspres, Castelnou has been voted a favourite village by the French since 2015. There's only one way to find out exactly why: visit it yourself.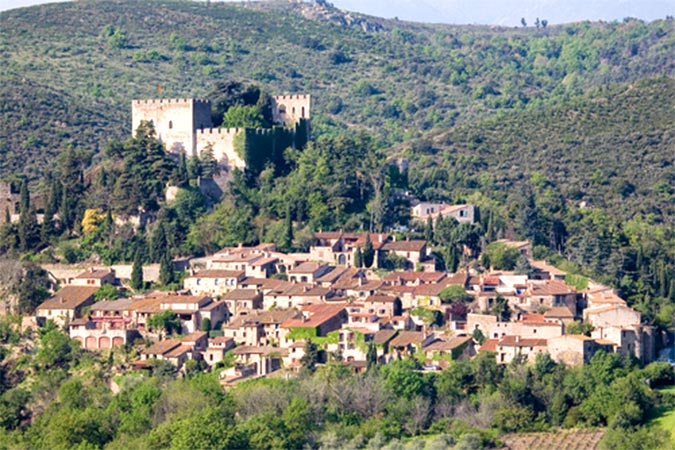 PERPIGNAN
Just 20 minutes from Le Soleil de la Méditerranée Campsite, Perpignan is the last city before the Spanish border. A popular gateway between Barcelona and the south of France, it's a great place to visit with friends or family.
Located at the foot of the Pyrenees and just a few miles from the sea, the city has plenty to offer and a real Catalan feel.
Perpignan is a university city and a centre of art and culture that wins visitors over with its contrasts, occasional exuberance and easy way of life. Its Mediterranean architecture along winding streets, medieval charm, palm trees in bustling squares and sunshine all make the city a pleasure to walk around. You might want to do some shopping at the many boutiques or the markets with a southern feel.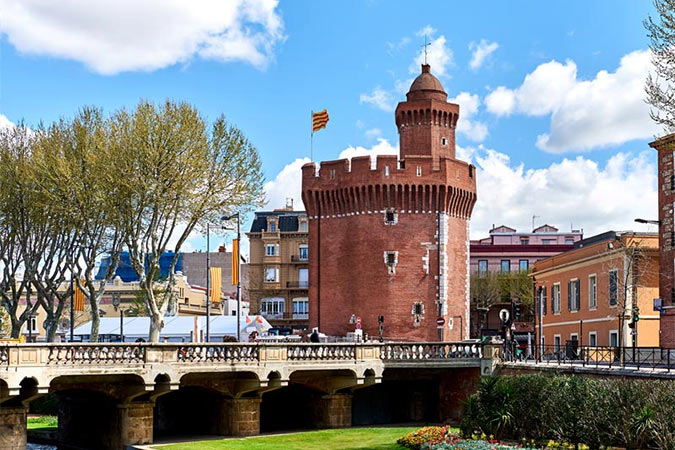 WELLNESS CENTRES NEAR SAINT-CYPRIEN
Enjoy the benefits of the thermal waters at one of the five wellness centres near Saint-Cyprien.
In our increasingly stressful world, we're all looking for more calm, wellbeing and balance in our lives.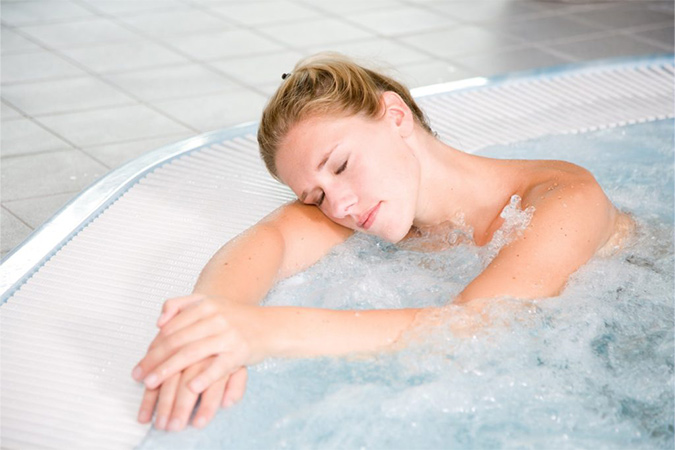 SPAIN FROM LE SOLEIL DE LA MÉDITERRANÉE CAMPSITE