Le Soleil de la Méditerranée
CAMPING LEUCATE
If there is one place in the south of France where the word camping is synonymous with beach and board sports pleasures, it is definitely Leucate.
YOUR CAMPING HOLIDAY IN LEUCATE
Straddling the departments of Aude and Pyrénées-Orientales, Leucate offers a wide variety of beaches of varying type. It is a very popular location with campers, who have for years chosen the region for their camping holidays. Sunbathers and "beach culture" lovers will be delighted and will have no trouble finding a spot to lay out their towel. Leucate unfurls its 18 km of fine, gently sloping sand for the pleasure of its visitors. La Plagette de Leucate is a unique little beach. Hidden among the cliffs of Cap Leucate, this small sandy beach and its turquoise waters form a mini paradise.
In the perfect location between the sea and the lagoon, water is a vital part of Leucate and most of the activities on offer are focused on the sea. Your camping holiday near Leucate gives you the perfect opportunity to get into board sports.
As a renowned spot to practice kitesurfing and windsurfing, each year Leucate attracts nearly 160,000 spectators from all over the world to see the best competitors compete in the Mondial du Vent.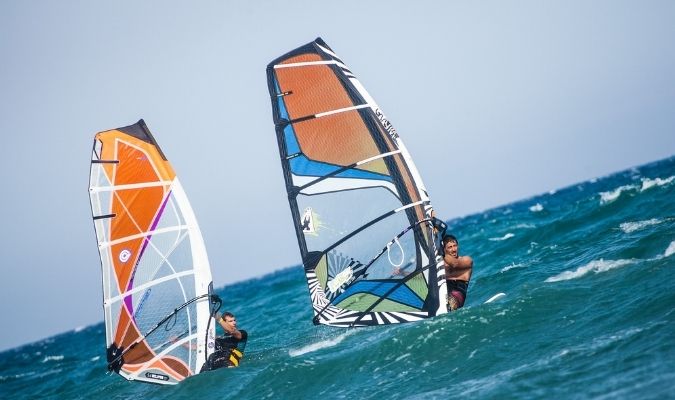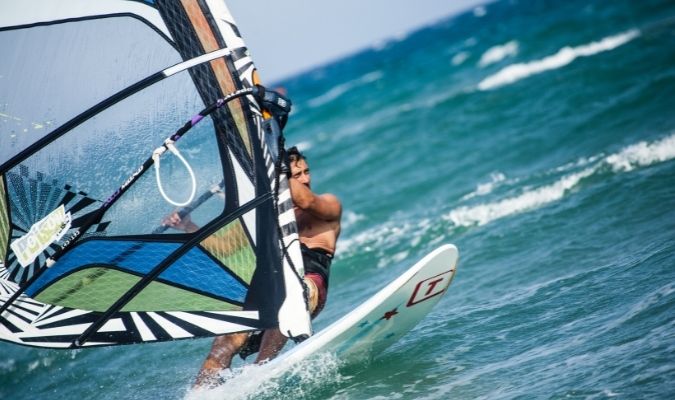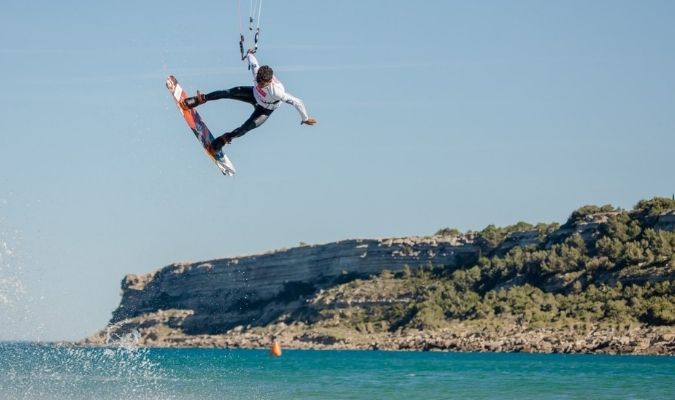 WHAT IS THERE TO SEE AND DO IN LEUCATE ?
With its 5400 hectares, the Salses-Leucate lake is the second largest lagoon in the Occitan region and offers campers small beaches with warm, shallow water. At the end of the day, the sunsets against the Canigou backdrop are simply breathtaking. Your campsite in the eastern Pyrenees is exactly the right place to be to enjoy the spectacle.
A visit to the lagoon's fishing village is a must during your Leucate camping holiday, and foodies will not turn down the opportunity to try the oysters at one of the channel's picturesque shellfish huts. Fishermen and oyster farmers now share this natural area with the many nautical activities that have developed there.
For those without sea legs, the Leucate- Barcares leisure and activity park offers 12 tree climbs of different levels, including a 300 m zip line at 22 m height and a rock to be climbed. Emotion guaranteed.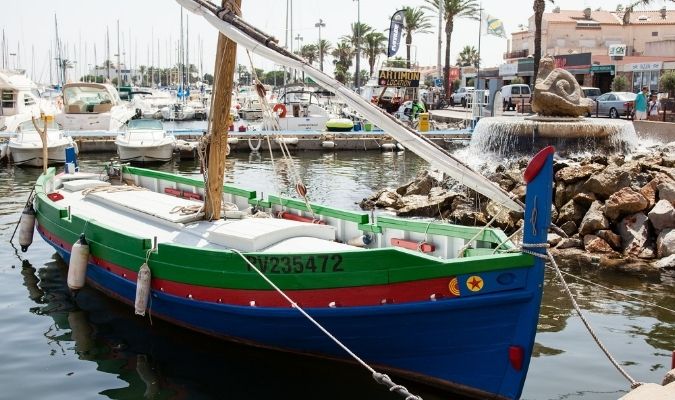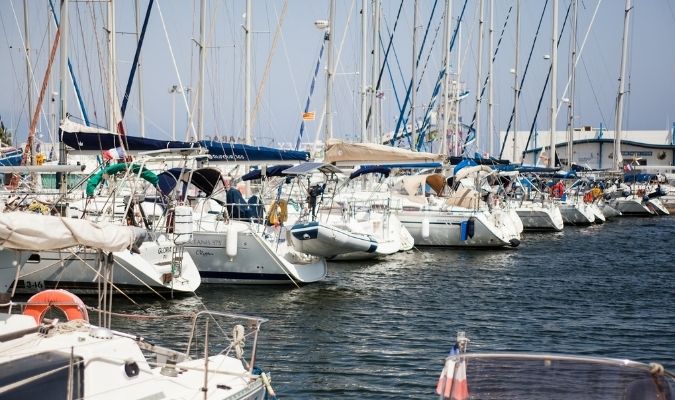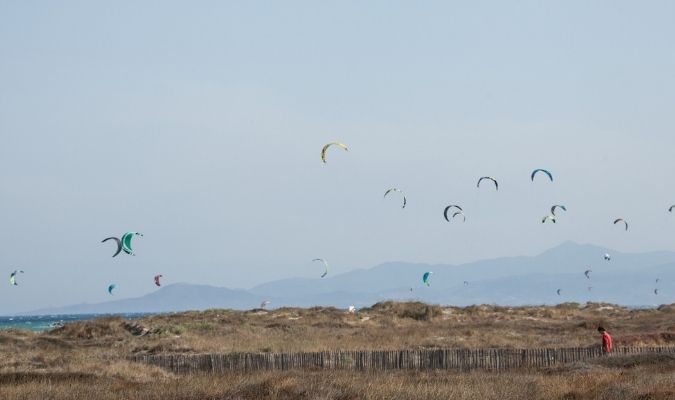 WATER PARK NEAR LEUCATE
Less than 30 minutes from Leucate, the Le Soleil de la Méditerranée Leucate campsite is open to you all year round. You can take full advantage of its magnificent 3,500 m2 water park with its indoor heated swimming pool, a play area that makes this campsite the only 5-star option close to Leucate. Test out the giant slides. For the youngest there is a paddling pool with water games, and a wellness area with whirlpool completes this giant water park just a stone's throw from Leucate. Large spaces offer a multitude of opportunities to enjoy this aquatic area in complete peace of mind, while having a drink with friends for example.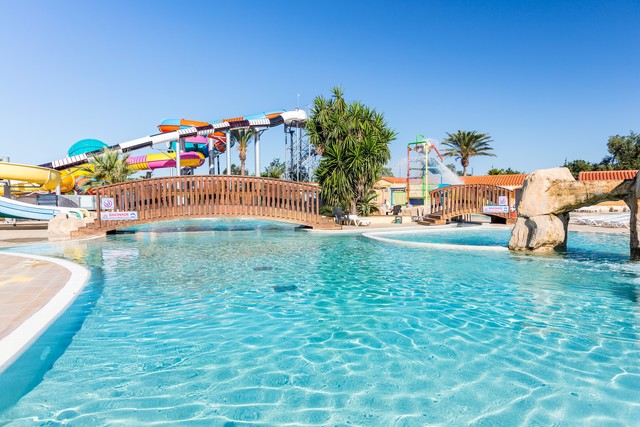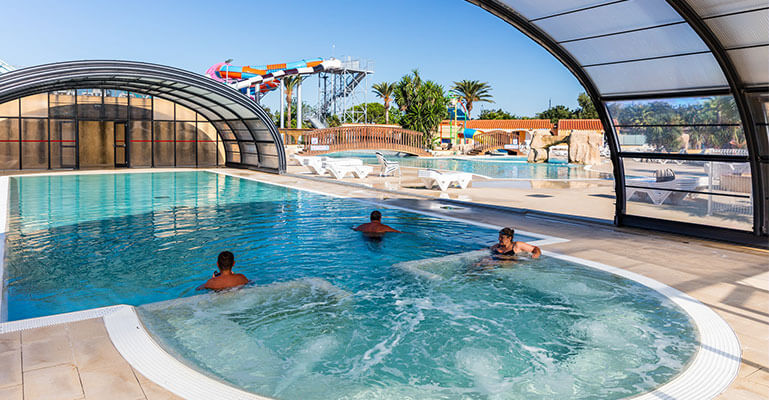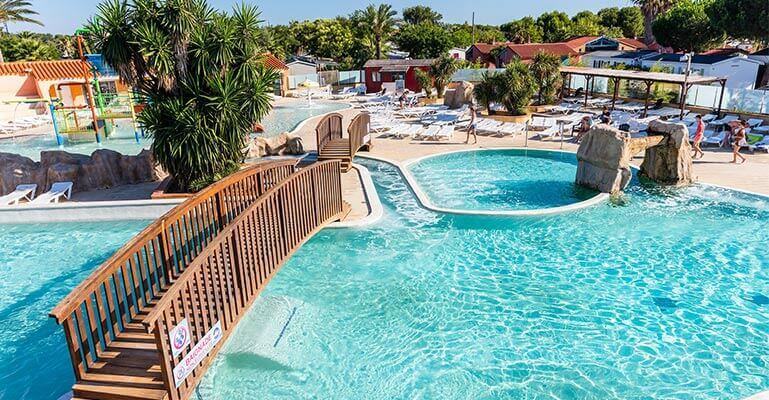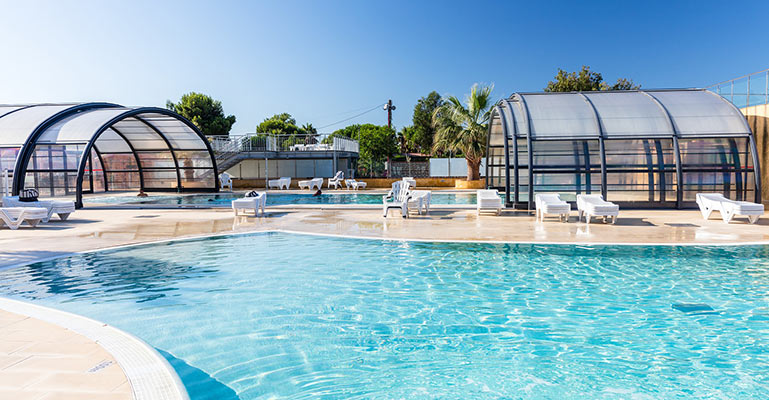 RENTAL IN A 5-STAR CAMPSITE NEAR LEUCATE
With its children's club and its many events and activities, Le Soleil de la Méditerranée has everything for a wonderful family holiday in Leucate and its surrounding areas The open-air hotel offers high-end accommodation close to Leucate, guaranteed by its fifth star, whether pitching your tent or parking your caravan, or renting a chalet or modern, comfortable and air-conditioned mobile home. The campsite has a wide range of mobile home rentals, from two to four bedrooms with terrace that can accommodate up to 8 people. Whether coming to Leucate with family or friends, your holiday at Le Soleil de la Méditerranée campsite in Saint Cyprien will be an unforgettable one.