Le Soleil de la Méditerranée
CAMPING PERPIGNAN
Less than 20 minutes from Perpignan, on your way to Spain and the coast, you will find "Le Soleil de la Méditerranée" campsite with aquatic park.
CAMPING PERPIGNAN WITH WATER PARK
Located less than 800 m from the beach at Saint Cyprien, this 3,500 m2 water park consists of a heated indoor pool, a fun area with giant slides, a paddling pool with water games for the youngest and a well-being area with whirlpool and river with current. It is certainly one of the most beautiful water parks near Perpignan and in a 5-star campsite.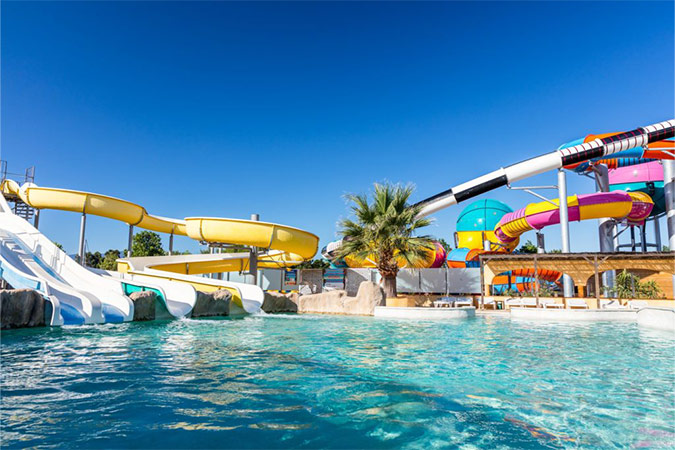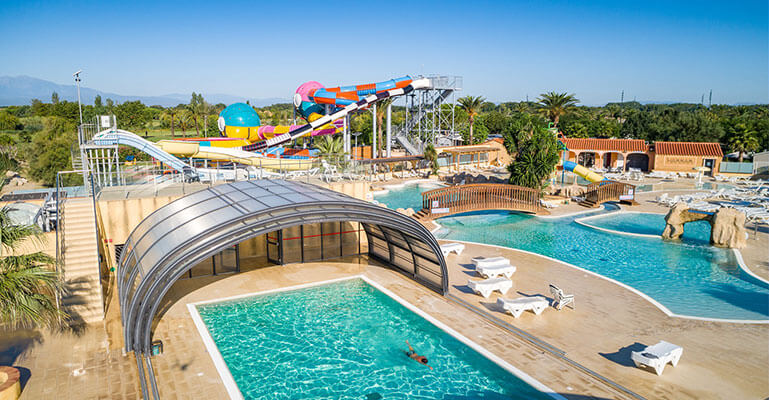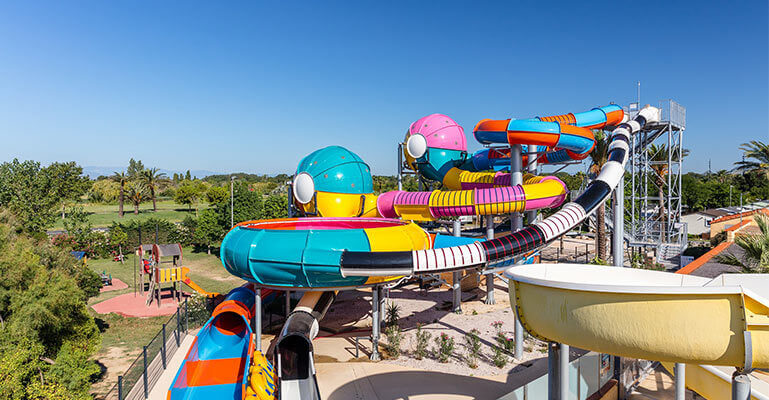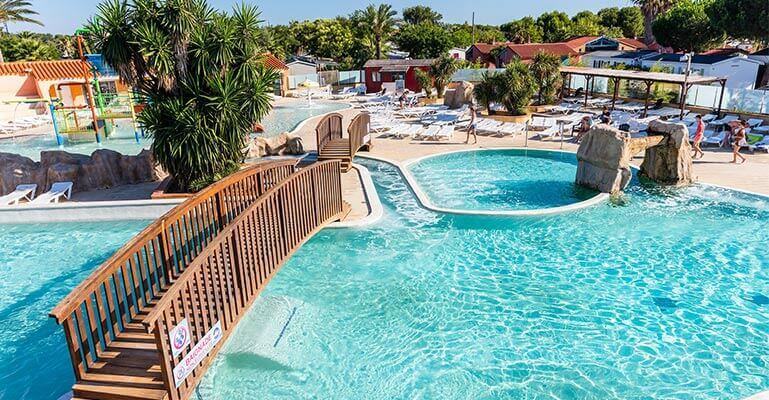 MOBIL HOME RENTAL PERPIGNAN
The 5-star Soleil de la Méditerranée campsite is open all year round and has everything you need for a wonderful family holiday. In terms of accommodation, the Perpignan Le Soleil de la Méditerranée campsite offers spacious green pitches, the rental of equipped chalets or comfortable air-conditioned mobile homes with terrace that can accommodate up to 8 people and which will satisfy the most demanding of you. Whether coming with family or friends, your holiday at Le Soleil de la Méditerranée campsite will be an unforgettable one.
Your open-air hotel, with its children's club and many day and evening activities, is in the immediate vicinity of Perpignan which is just 20 minutes away by car. Le Soleil de la Méditerranée campsite and its team wish you a great holiday in Perpignan.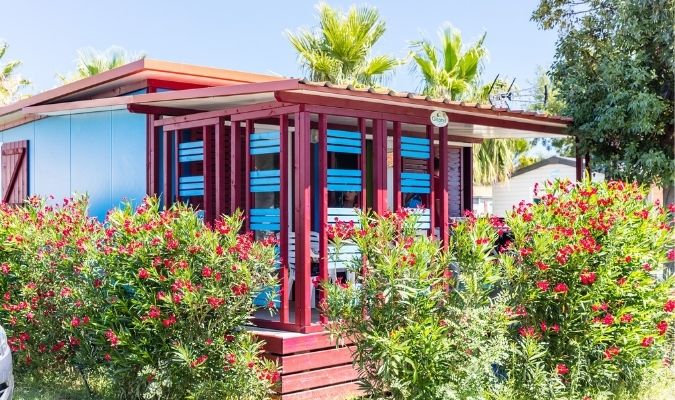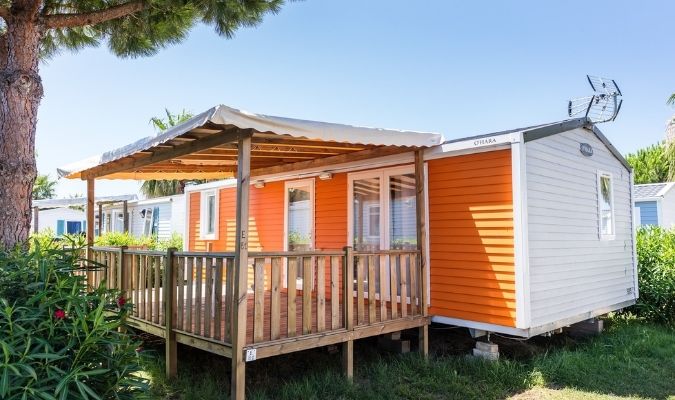 WHAT IS THERE TO SEE AND DO IN PERPIGNAN ?
Located between the Pyrenees and the Mediterranean Sea, Perpignan proudly proclaims its origins and its Catalan identity, and is an essential stopover during a camping dans les Pyrénées Orientales. Former continental capital of the kingdom of Majorca, over the centuries Perpignan has managed to combine its traditions with modernity. More than a simple city in the south of France with copious amounts of sunshine and where life is good, the unique architectural heritage of Perpignan will also captivate you. Indeed, camping close to Perpignan gives you the opportunity to visit 34 buildings listed as historic monuments, and a day will not be sufficient for you to visit everything. Of the many monuments and places to visit, the Palace of the Kings of Majorca is certainly the one that most bears witness to the richness of this small Mediterranean state. Its imposing silhouette dominates the medieval heart of the city, and its hanging gardens host concerts during the summer for the enjoyment of visitors. The top of the Homage Tower offers you a breathtaking panorama of the Roussillon plain, the Canigou peak and the Mediterranean Sea.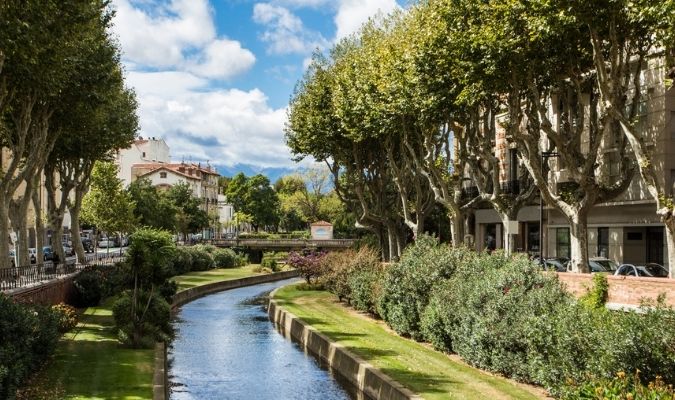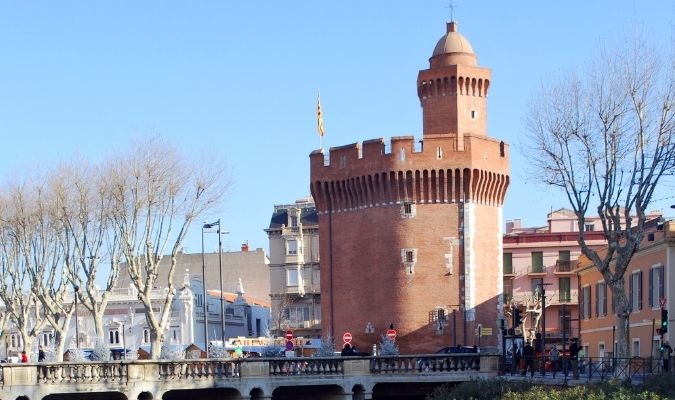 GOING OUT IN PERPIGAN
When camping close to Perpignan, you will be spoiled for choice when it comes to going out and enjoying the city. Perpignan cannot deny its Iberian origins, and you can certainly feel it as you visit the city. The way of life in Perpignan is set to Spanish time. The city seems to pause at siesta time and dining is late. Restaurants sit in the alleys and on small squares, while large doors conceal unexpected patios, where you can nibble on a few tapas accompanied by a good regional wine.
Capital of Catalan gastronomy, gourmets and enthusiasts of spicy food will enjoy savouring the specialties served in Perpignan's many restaurants. Find out more about where to go in Perpignan.