Le Soleil de la Méditerranée
CAMPING COLLIOURE
An essential stopover for those looking for a camping holiday on the Eastern Pyrenees coast, Collioure wears with pride its reputation as a little corner of paradise, with a Catalan accent and multicoloured houses! Nicknamed the pearl of the Vermilion coast, the ancient medieval city of Collioure lies against the Mediterranean Sea at the foot of the Albères massif, where the Pyrenees plunge into the sea. Collioure is a delight for its visitors and proudly displays its colours and heritage. Located in a small bay and surrounded by a fertile land planted with terraced vines, the alleys of Collioure are narrow and pedestrianised which adds to its charm. The fort Saint Elme which overlooks the village and its church with the characteristic bell tower are historic landmarks and a quintessential part of the postcard panoramas that Collioure offers.
WHAT IS THERE TO SEE AND DO IN COLLIOURE ?
When staying at a campsite nearby, the small town of Collioure is a must in the region. Firmly entrenched in Catalan culture and traditions, Collioure will also charm you with its friendliness. For the gourmets among you, between refined wines from its rich viticultural terroir and the many culinary specialties of Catalan gastronomy, you must take advantage of your trip to Collioure to see traditional preparation of anchovies in the workshops. A treasure of the sea which plays its part in the renown of this small fishing port. Going up rue Berthelot, food lovers will enjoy the old-fashioned "croquants", a type of biscuit whose artisanal recipe has been passed down through the generations. Finally, at the top of the commune stands a mill initially used for cereals, but was converted and is today used for the production of Collioure olive oil.
Far from the tumult of the big seaside resorts, an extraordinary sweetness of life reigns here. Collioure and its surroundings present holidaymakers with rocky inlets and colourful Catalan boats sitting alongside pleasure craft in the small Catalan port. This is a stark contrast to the large sandy beaches baked by the midday sun which constitute the vast majority of the Languedoc coast. You can't fail to fall in love with it. Find out more about tourism and trips in Collioure.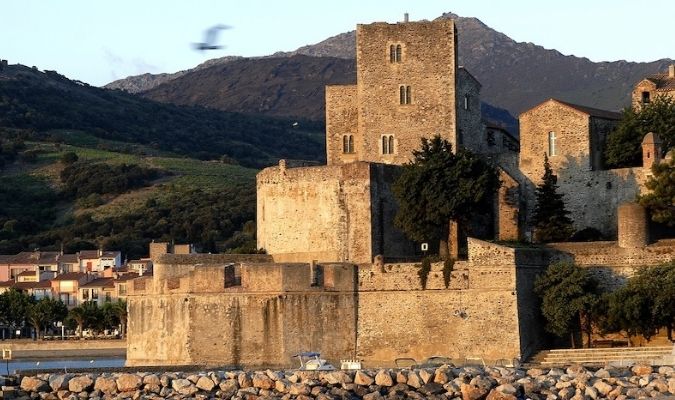 WATER PARK CLOSE TO COLLIOURE
In Saint Cyprien, less than 15 minutes from Collioure, you will find the aquatic park at Le Soleil de la Méditerranée campsite. Located less than 800 m from the beach, this 3,500 m2 water park consists of a heated indoor pool, a fun area with giant slides, a paddling pool with water games for the youngest and a well-being area with whirlpool and river with current. The 5-star Soleil de la Méditerranée campsite offers various benefits. It has a children's club plus lots of activities and entertainment both during the day and in the evening. The 5-star Soleil de la Méditerranée campsite near Collioure is open all year round and has everything you need for a wonderful family holiday.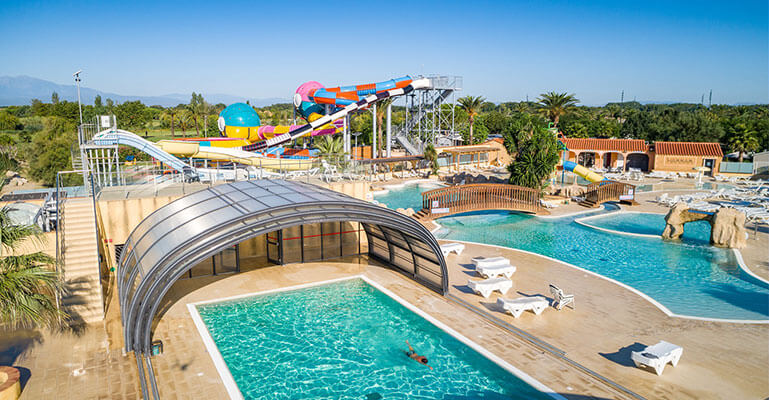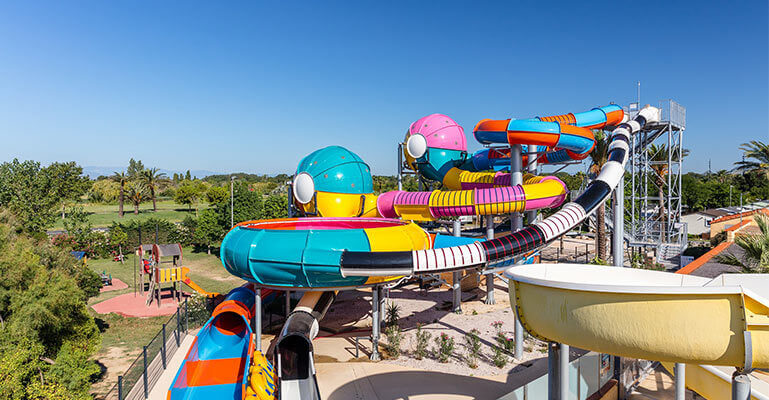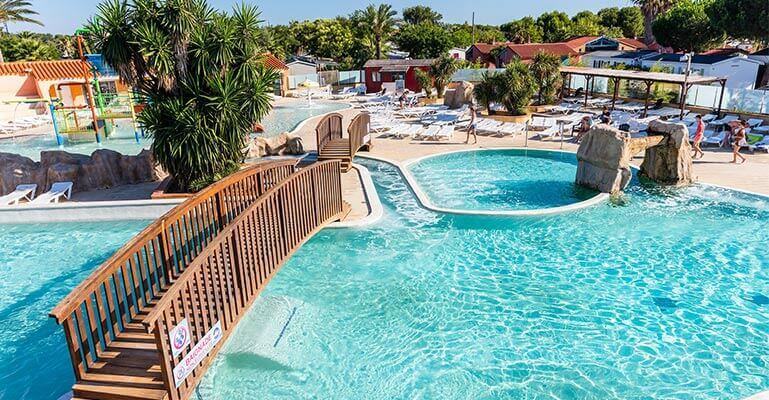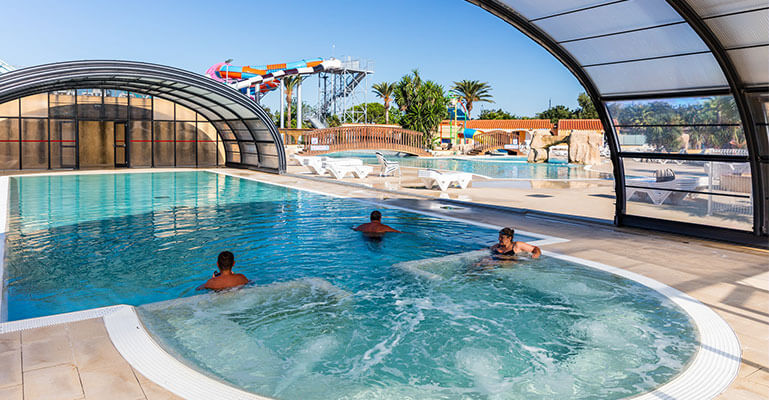 MOBILE HOME RENTAL NEAR COLLIOURE
The Soleil de la Méditerranée campsite offers a wide range of accommodation. It offers green pitches, fully equipped chalets or the rental of comfortable, air-conditioned mobile homes with a terrace that can accommodate up to 8 people. You have a large choice in mobile home rental near Collioure. The campsite has various configurations with 2, 3 or 4 bedrooms. The mobile homes are modern and impeccably maintained, guaranteeing customers real 5-star campsite comfort.